Page last updated: Tue, 12-Nov-2019 15:16:40
ErgoCanada - Detailed Specification Page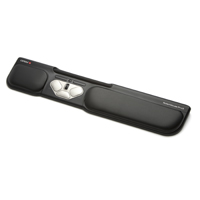 Back to Previous Page
RollerMouse Pro3
by Contour Design Inc.
Additional Resources Usage Tips
Product Summary
The RollerMouse Pro3 by Contour Design is a central pointing device which uses a rollerbar instead of a traditional mouse and is designed to sit immediately in front of your keyboard below the space bar. This allows the user to perform all mousing activity inline in the area immediately "below" their keyboard, eliminating the need to reach for a mouse. The RollerMouse Pro3 is ideally suited for workspaces with insufficient room for a mouse in that it frees up space, providing more room for a user with limited available space.

The cursor is moved by rolling a "dowel" or cylindrical control bar with the fingertips to move the cursor "up" and "down", and sliding this bar from side to side for horizontal movement. Once the desired location is achieved, the user can generate a left click by pressing down on the bar (the force required for this is adjustable from ultra-light touch to highly tactile). Five buttons and a scroll wheel are located below the bar to generate left/middle/right clicks, copy, paste and vertical scrolling. There is also a cursor speed button between the copy and paste buttons for ten different speed settings from 600 to 2400 dpi. The Pro3 additionally comes with adjustable keyboard "risers" to lift up conventional and compact single piece keyboards.

The improvements of the RollerMouse Pro3 over the RollerMouse Pro2 include an aluminum metal base for added sturdiness, slightly less width (about 1" less), increased dpi for faster speeds and greater cursor accuracy, a smoother scrolling scroll wheel, and the ability to be used with adjustable or separated keyboards without an additional mat accessory.

Note: Keyboard not included.
Ergonomic Benefits
Eliminates Overreaching for a Traditional Mouse, Relieving Neck, Shoulder and Elbow Pain - Conventional keyboards will result in overreaching for the mouse as the user is forced to reach over the arrow keys and numeric keypad to get to the mouse. This can lead to neck, shoulder and elbow pain and discomfort. Asymmetrical reaching with one side of the body and not the other causes one's muscle groups to compensate for the weight of the extended arm while reaching for a traditional mouse. Repetitive overreaching will often lead to tightness and pain in the neck, shoulder and elbow areas. The RollerMouse Pro3 allows the user to keep their elbows comfortably by their side.
Prevents Static Grip of the Mouse - The RollerMouse Pro3 is controlled with an open relaxed hand and slightly curled fingers use of an unflexed hand, with no possibility of clutching or holding the device to effect cursor control. Fingertips roll the narrow rollerbar both up and down and from side to side simultaneously to navigate the cursor over the entire screen, with very little friction or resistance. The elimination of flexing the fingers to grip the mouse avoids compression of the carpal tunnel.
Ambidextrous Cursor Control - By centrally locating the mouse buttons beneath the keyboard home keys, mouse control is equidistant from either hand. Ambidextrous use is encouraged and easily accomplished.
Click with Any Finger - Use any finger to click on the rollerbar, unlike most mice which can lead to trigger finger as only the index finger is able to generate left clicks.
"One Touch" Access to High Frequency Actions - Dedicated buttons for Copy, Paste, and Double Click.
Features
"Rollerbar": The RollerMouse Pro3's unique feature is the "rollerbar", a cylindrical trackball with an optical sensor of 600 to 2400 dpi. The rollerbar works by rolling the bar to move the cursor up and down on the screen. To move the cursor left or right, simply slide the rollerbar side to side.
End Detection: In order that cursor movement remain centered throughout usage, there is an end detection mechanism that shifts the cursor to the left or right side of the screen when the rollerbar can no longer be moved any further left or right. There is a very slight "click" feel as the end limit of the range of the rollerbar is reached, triggering end detection.
Bar Click Tension Adjustments: A dial on bottom will adjust the tension of rollerbar click force. The small dot requires least amount of pressure to click, and the large dot requires most amount of pressure to click. This feature can be helpful for individuals who find that they often accidentally click on the bar while typing.
Palm Supports: The RollerMouse Pro3 also comes with removable leatherette palm supports that relieve stress on the wrists while typing and using the rollerbar. These supports can be removed for cleaning, or when not needed.
Easy to Use Keyboard Lifters: Ultra-slim keyboards are becoming increasing popular, so Contour Design has included two keyboard lifters that allow one to change the height and angle of the keyboard. There are three heights to choose from: low (flat), high (flat), and sloping down and away from the user (negative slope).
Plug and Play Connectivity for both PC and Mac Computers: HID compliant device has the drivers on board and simply needs to be plugged into any empty USB port, without the need for a cumbersome connection routine.
Seven Button Functions: There are two easy options to perform a left click. Either push down on the navigation bar itself, or click on the large left button in the button control area. Other button functions include a traditional "right click" button, a single touch "double click" button, a scroll wheel, a scroll lock , "one touch" copy and "one touch" paste.
Cursor Speed Selection: The RollerMouse Pro3 has 10 different cursor speed settings selected by a button on the top side of the mouse.
Optional Driver for Customized Button Actions: For those who desire greater customization options, a downloadable driver is available for Mac or PC which allows user-specified actions for each button.
Images
(Click on any thumbnail to view larger image)

RM-PRO3 - Angled View


RM-PRO3 - Top View


RM-PRO3 with Keyboard


RM-PRO3 in Use


RM-PRO3 - Angled View with Keyboard


RM-PRO3 - Angled View with Keyboard


RM-PRO3 - Side View


RM-PRO3 - Side View with Keyboard
Technical Specifications
Width: 19.0" (48.5 cm)
Depth (front to back): 3.5" (9.0 cm) (to front of keyboard without keyboard risers)
Height: 1.25" (3.2 cm)
Rollerbar Width: 6.6" (16.7 cm)
Rollerbar Clickable: Yes
Adjustable Bar Click Force: Yes
Optical Resolution: 600 to 2400 dpi
Number of Buttons: 8 (includes scroll wheel and rollerbar)
Embedded Left Click in Cursor Control: Yes
Clickable Scroll Wheel: Yes
Button Type: Tactile
Replaceable Wrist Rests: Yes
Compatibility: PC: Plug and Play for Windows
Mac: Plug and play for Mac OS X.
Programmability: PC & Mac: Drivers
Note:Please verify compatibility with your OS.
Interface: USB
Warranty: 2 years (manufacturer direct only)
Available Colours: Black only
Models
For pricing, availability or to order this product, visit our online store.
| Model # | Description |
| --- | --- |
| RM-PRO3 | RollerMouse Pro3, USB, Black |
Accessories
| Model # | Description |
| --- | --- |
| RM-WAVE-03 | RollerWave3 Accessory for RollerMouse Pro3, Black, Lycra over Soft Foam |