Page last updated: Thu., 28-May-2020 14:38:53
ErgoCanada - Detailed Specification Page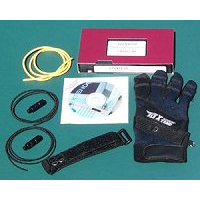 Back to Previous Page
FLEXTEND Glove
by Balance Systems Inc.
Images Additional Resources Usage Tips
Product Summary
FLEXTEND® is a patented, multifunctional exercise system that can help provide relief from the symptoms associated with many types of Repetitive Strain Injuries and musculoskeletal conditions by correcting the strength and length imbalance that exists between the strong, overused flexor muscles, and the weak, underdeveloped extensor muscles of the hand and forearm.

The FLEXTEND® Glove comes with:
1 FLEXTEND Orthotic Glove
1 Arm strap
1 Instructional video OR 1 Interactive Computer CD (contains a print-friendly instruction manual)
2 Additional resistance bands
1 Additional resistance band clasp
To ensure you order the correct size, measure from the base of the hand (first wrist crease closest to palm) to the tip of the middle finger.

Note: We are unable to offer our 30 day Customer Satisfaction Guarantee on this product.
Ergonomic Benefits
Stretches the flexor muscles - Use FLEXTEND to stretch and lengthen the compressive flexor muscles, fascia and scar-tissue within and around the carpal tunnel. Stretching these restrictive tissues can help alleviate excessive compression around the carpal tunnel and reduce impingement of the nerves and blood vessels.
Strengthens the extensor muscles - Use FLEXTEND to strengthen the extensor muscles in order to help balance the strength ration between the flexors and extensors, thus increasing the flexibility, strength, and stability of the entire joint.

Strong extensors are necessary to maintain correct balance of the wrist and fingers, and to stabilize the hand and wrist in the correct neutral position while performing everyday activities. Strong wrist extensors are also necessary for precision movements that utilize wrist and finger flexion, because the extensor muscles prepare the flexor muscles for action so that they can act powerfully. The increase in strength to the weak and strained extensor muscles can help reduce compression of the carpal tunnel, prevent additional injury and scarring, and return the joint to its normal functioning position.
Reduces repetitive flexion - Most of the exercise devices presently available for the hand focus on strengthening the finger and wrist flexors that are already overused on a daily basis. Since most activities involve these muscles to such a large degree, they should already have sufficient strength.

The use of "gripping" devices for the hand can actually increase the painful symptoms associated with repetitive stress injuries by creating additional compressive stress to the wrist and finger flexors, possibly causing more damage to the carpal tunnel.
Features
Superior performance: FLEXTEND's patented technology allows exercises to be performed through a full range of motion without any gripping involved. FLEXTEND provides multiple levels of resistance for finger, wrist and elbow extension, whether the hand is in a pronated, supinated or neutral position. FLEXTEND also performs exercises utilizing radial and ulnar deviation of the wrist, pronation and supination of the wrist and forearm, and abduction (spreading) of the fingers. These incredible features allow greater treatment mobility, especially if the injury being addressed can only be moved through one pain-free motion.

FLEXTEND is intended to assist in the prevention and rehabilitation of injuries associated with direct trauma or overuse of the fingers, wrist and elbow.
Technical Specifications
Materials: Glove: Leather
Glove liner: Tricot
Glove back: Spandex
Glove sizes: IMPORTANT: A custom or snug fit is best for a quick recovery.

Extra small: 6.5" to 6.75" (16.5 cm to 17.1 cm)
Small: 6.75" to 7.0" (17.1 cm to 17.8 cm)
Medium: 7.0" to 7.25" (17.8 cm to 18.4 cm)
Large: 7.25" to 7.5" (18.4 cm to 19.0 cm)
Extra large: 7.5" to 7.75" (19.0 cm to 19.7 cm)
Models
For pricing, availability or to order this product, visit our online store.
| Model # | Description |
| --- | --- |
| FG-XXS-R | Extra extra small, right, single glove. |
| FG-XS-R | Extra small, right, single glove |
| FG-XXL-R | Extra extra large, right, single glove. |
| FG-XXS-L | Extra extra small, left, single glove. |
| FG-XS-L | Extra small, left, single glove |
| FG-S-L | Small, left, single glove |
| FG-M-L | Medium, left, single glove |
Accessories
| Model # | Description |
| --- | --- |
| F-AC | FLEXTEND® AC Kit |
| F-TFT | FLEXTEND® TFT Kit |