Page last updated: Thursday 25 November 2021 1:41 PM
ErgoCanada - Detailed Specification Page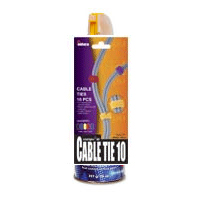 Back to Previous Page
Velcro Cable Ties (10 Pack, 5 Colors)
by Aidata
Ergonomic Benefits Features Images Additional Resources Usage Tips Accessories
Product Summary
These cable ties help to minimize clutter on your desk and behind your computer. There are 10 velcro ties in 5 different colors (purple, blue, red, black, yellow). Each tie is 7" long and 0.8" wide.
Technical Specifications
Width of each tie: 0.8" (2.0 cm)
Length of each tie: 7.0" (17.8 cm)
Colours in pack: Purple, blue, red, black,yellow
Models
For pricing, availability or to order this product, visit our online store.
| Model # | Description |
| --- | --- |
| CM03 | Velcro Cable Ties (10 Pack, 5 Colors) |