Page last updated: Mon., 30-Mar.-2020 14:15:58
ErgoCanada - Detailed Specification Page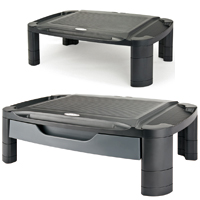 Back to Previous Page
Professional Monitor Riser
by Aidata
Additional Resources Accessories
Product Summary
The Professional Monitor Riser from Aidata incorporates space-saving design and customizable features to create a practical, multi-purpose desk accessory. The Professional Monitor Riser offers ergonomic benefits to those who need to raise laptops or monitors weighing less than 33 lbs to a comfortable viewing height. When supporting other office equipment such as printers, phones or adding machines, the Risers help restore order to the chaos of a busy work station. Two models are available: the entry-level MR-1001B, and the MS-1002G which includes an Accessory Drawer. Both models offer cable management at the back, a slot at the front to hold a tablet in an upright position, and trays at both sides to hold a smart phone or other smaller objects.

Both models have a surface area of 21.6" by 13.8" and have segmented legs that allow different platform heights. Model MR-1001B provides four platform heights: 2", 3.5", 5", and 6.7". Model MS-1002G, with the Accessory Drawer, provides three platform heights of 3.5", 5", and 6.7". Both models can also be stacked if greater elevations are desired.

Note: The smallest leg segments for both models have a rubber base. To provide stability on the desk, these segments must always be installed. A cap to provide a clean finish for the top corners is included with each column of legs. The cap must be removed from the top of each column before the units can be stacked.
Ergonomic Benefits
Reduces Strain on the Neck and Upper Back - By allowing users to raise the monitor to the correct height for most comfortable viewing, the Professional Monitor Riser helps users maintain good upper body posture, reducing the risk of strain in the muscles at the back of the neck and in the upper back. Positioning the tablet in a vertical position in the front slot allows users to experience the same ergonomic benefits when working with a touch screen.
Brings Mobile Devices into the Comfort Zone - Enables users to access mobile devices more efficiently and more comfortably.
Features
Height Adjustable Configurations: Each model offers different platform heights. Model MR-1001B offers four heights, Model MS-1002G with Accessory Drawer, offers three heights.
Stackable: Should there be a need for elevations greater than that provided by a single Professional Monitor Riser, multiple units can be combined to further increase the available height range.
Spacious and Sturdy: Professional Monitor Riser can support monitors, laptops, printers and other office equipment up to 33 lbs.
Cable Management: A slot at the back of the platform keeps cables out of the way and tangle-free.
Accessory Drawer with Removable Dividers (Model MS-1002G): Provides space to store printer paper or other materials and accessories (See Usage Tips).
Front Slot for Mobile Devices: Allows users to bring tablets and smart phones into the Comfort Zone and to position these devices vertically for most comfortable use.
Lightweight, Yet Stable: With each leg having a circumference of approximately 8" and a soft rubber non-slip base, the Professional Monitor Riser easily distributes the weight of devices placed on it and will not change position without specific effort.
Images
(Click on any thumbnail to view larger image)

Professional Monitor Riser - Model MR-1001B


Professional Monitor Riser, with Drawer - Model MR-1002G


Professional Monitor Riser, with Drawer, showing lowest


Professional Monitor Riser, with Drawer, showing mobile devices


Professional Monitor Riser, with Drawer, showing two models stacked
Technical Specifications
Dimensions of Platform: 21.65" (55.0 cm) Wide x 13.78" (35.0 cm) Deep
Possible Platform Heights for Model MR-1001B: 2" (5 cm), 3.5" (9 cm), 5" (13 cm), and 6.7" (17 cm)
Possible Platform Heights for Model MS-1002G: 3.5" (9 cm), 5" (13 cm), and 6.7" (17 cm)
Drawer Dimensions (Model MS-1002G): 10.4" (26.5 cm) x 14.6" (37 cm); drawer includes two dividers to create 2.5" (6 cm) channels on each side
Drawer Extension (Model MS-1002G): 7.9" (20 cm)
Warranty: 90 Days (Manufacturer Direct)
Package Contents: Professional Monitor Riser, One-Page Instruction Sheet
Usage Tips
Select the correct height: Configure the Riser to ensure that the top of the viewable area of your monitor is at roughly the same height as your eyes. Ideally, you should just need to cast your eyes down slightly to view the centre of your monitor. (This practice helps to reduce tension in the muscles at the back of your head and neck.)
Store paper of different sizes (model MR-1002G only). To accommodate US Letter-Sized paper, remove one of the drawer dividers. To accommodate legal-sized paper, remove both drawer dividers.
Ensure stability: Always attach the non-skid leg segments when configuring your Professional Monitor Riser.
Create a finished look: Remove the corner covers from the leg columns before configuring the legs, and insert the covers into the corners of the unit.
Models
For pricing, availability or to order this product, visit our online store.
| Model # | Description |
| --- | --- |
| MR-1001B | Professional Monitor Riser |
| MR-1002G | Professional Monitor Riser With Drawer |