Ergonomic Benefits Features Additional Resources Usage Tips Accessories
Product Summary
This universal tablet holder clamps to any desk up to 2.25" thick and provides maximum reaches of 20.5" horizontal and 21" vertical. Now any tablet (Apple, Samsung, etc.) at least 6.75" wide can be positioned at the optimal location in the workstation. They can be put alongside the monitor (for viewing) and brought in closer when input or access is required. The black gooseneck provides sufficient resistance to allow the full use of the tablet without undesired movement.
Images
(Click on any thumbnail to view larger image)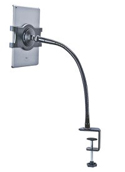 Gooseneck Desk Clamp Universal Tablet Holder
Technical Specifications
Mounting Method: Edge Clamp
Requires: 2" (5 cm) Lip
Accommodates surfaces up to 2.25" (10.2 cm)
Range of movement: 360° Rotation at Base
360° Rotation at Tablet Mount
2 swivel joints at back of mount each provide 180° of adjustment at right angles to each other, enabling positioning of the tablet at any necessary angle
Maximum Reach (from desk mount to centre of tablet mount): Vertical: 21" (53.3 cm)
Horizontal: 20.5" (52 cm)
Models
For pricing, availability or to order this product, visit our online store.
| Model # | Description |
| --- | --- |
| US-2116CF | Aidata Gooseneck Desk Clamp Universal Tablet Holder |