Page last updated: Tue, 12-Dec-2017 15:15:07
ErgoCanada - Detailed Specification Page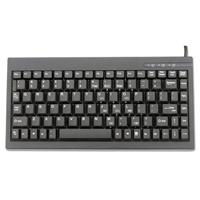 Back to Previous Page
Mini-Keyboard
by SolidTek
Additional Resources Usage Tips Accessories
Product Summary
The Mini-Keyboard from SolidTek is a compact keyboard with the following features:
An 88 key layout with an embedded numeric keypad to offer full 104/105 key functionality.
All the letter keys are full size with a 0.75" (1.905 cm) key pitch (the space between the centre of neighbouring keycaps) - only some of the bottom row and right column are slightly narrower.
The keyboard features slightly smaller top, bottom, and far right-hand keys to further reduce the size of the keyboard.
A 20 key embedded numeric keypad.
White, black (USB or PS/2 models), or silver (PS/2 only).
English or French Canadian layout.
Available in PS/2 or USB.
Ergonomic Benefits
Eliminates Overreaching - Regular size keyboards with integrated numeric keypads on the right make reaching for your mouse on the right-hand side more difficult. The further you have to reach for the mouse, the greater the risk of injuries to the arm and shoulder due to overreaching. A compact keyboard like the Compact Mini-Keyboard will help remedy this potential problem by eliminating the built-in numeric keypad altogether.
Features
Embedded Numeric Keypad: The Mini-Keyboard achieves its compact size due to the elimination of an integrated numeric keypad on the left or right hand side. However, it does have an embedded numeric keypad, which is simply certain letter keys on the right hand side doubling as number keys when accessed through a toggle key. The numbers can be accessed using these instructions.
English and French Canadian Layout: The Mini-Keyboard comes in two kinds of layout: one for English users and one for French users. If you don't know how to access the French Canadian characters in the French Canadian layout, click here to find out.
Images
(Click on any thumbnail to view larger image)
| | | |
| --- | --- | --- |
| Mini-Keyboard - Black Model | Mini-Keyboard - White Model | Mini-Keyboard - French Canadian Layout |
Technical Specifications
Width: 11.30" (28.7 cm)
Depth (front-to-back): 5.51" (14.0 cm)
Height: 1.14" (2.9 cm)
Weight: 450 grams
Key pitch: 19.05 mm
Peak force: 50 ± 1.0 mm
Switch travel: 3.0 ± 0.3 mm
Keyswitch type: Low travel (3 mm) membrane
Keyswitch rating: 5 million actuations
Numeric keypad actions: 20
Compatibility: Windows 95 (PS/2 only), 98, ME, 2000, XP, Vista
Interface: USB or PS/2
Models
For pricing, availability or to order this product, visit our online store.
| Model # | Description |
| --- | --- |
| ACK-595U | USB model, black, US English layout |
| ACK-595U-CF | USB model, black, French Canadian layout |
| SK595UW | USB model, white, US English layout |
| SK595B | PS/2 model, black, US English layout |
| SK595W | PS/2 model, white, US English layout |
| SK595-SIL | PS/2 model, silver, US English layout |
| SK595UW-CF | USB model, white, French Canadian layout |
| SK595UW-CF-CLEARANCE | SolidTek Mini-Keyboard, embedded numeric keypad, 11.3" wide by 5.5" deep by 1.1" tall, 88 keys, French Canadian QWERTY unilingual layout, white, USB, Keycaps on unit have varying degrees of yellowing, |
| SK595W-CF | PS/2 model, white, French Canadian layout |