Page last updated: Fri, 17-Nov-2017 15:10:25
ErgoCanada - Detailed Specification Page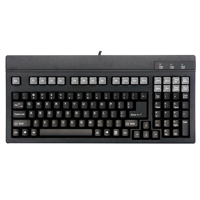 Back to Previous Page
Compact Financial Keyboard
by SolidTek
Ergonomic Benefits Features Additional Resources Usage Tips Accessories
Product Summary
Full size alpha keys, efficient layout, quiet membrane keyswitches, full 104 key layout - a full-function keyboard ...
... with a reduced lateral footprint.This keyboard offers a full 104 key layout with full sized keys (0.75" key pitch [1.905 cm]) (the space between the centre of neighbouring keycaps). The Function row keys and keys above the numeric keypad (PG up, Pg Down, Home, End, Scroll Lock, etc.) have clear covers which allows you to insert your own custom legends on the key caps by inserting a piece of paper into the hollow space at the top of the keycap (thus re-legending your keyboard).

This keyboard is available in USB in Black or White.
Images
(Click on any thumbnail to view larger image)


Compact Financial Keyboard
Technical Specifications
Width: 15.75" (40.0 cm)
Depth (front to back): 7.4" (18.8 cm)
Height: 1.69" (4.3 cm)
Weight: 2.54 lbs (1.15 kg)
Number of keys: 104
Key pitch: 0.75" (1.905 cm)
Total travel: 4.0mm ± 0.3 mm
Travel to peak: 1.5 mm ± 0.3 mm
Peak force: 60 grams ± 10 grams
Keyswitch type: Membrane
Keyswitch rating: 10 million actuations
Operating temperature: 0ºC to +55ºC
Storage temperature: -20ºC to +60ºC
Operating humidity: 10% to 95% relative humidity
Power supply: 5 V (D.C.) ± 5% @ 100 mA
Available colours: Black or white
Compatibility: Windows 98, ME, 2000, XP, Vista, or above
Interface: USB (PS/2 by special order)
Warranty: 1 year limited warranty.
Certifications: cRUus, CE, FCC, RoHS
Models
For pricing, availability or to order this product, visit our online store.
| Model # | Description |
| --- | --- |
| ACK-700UB | USB model, black |
| ACK-700UW | USB model, white |
| ACK-700B | PS/2 model, black (minimum order of 10) |
| ACK-700W | PS/2 model, white (minimum order of 10) |