Page last updated: Mon, 16-Oct-2017 16:10:09
ErgoCanada - Detailed Specification Page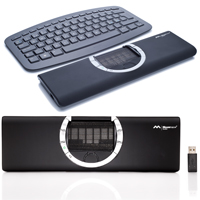 Back to Previous Page
Mousetrapper Flexible
by MouseTrapper
Additional Resources Usage Tips Accessories
Product Summary
The Mousetrapper Flexible is the latest version of the Mousetrapper Advance, an alternative mousing device that eliminates the need to reach beyond your keyboard. Cursor control is achieved through the use of a 'steering pad' which is centrally located directly below the keyboard, enabling ambidextrous use without the need of transferring a mouse from side to side. The steering pad makes finger touch control easy, requiring minimal effort and physical dexterity to accurately perform mousing actions. The surface of the pad effectively 'grips' the finger tip, allowing the finger to easily steer the pad, as compared to a touchpad where the surface is static and the finger glides over it. Unlike most touchpads, multiple fingers can be allowed to rest on the surface of the steering pad, permitting a more relaxed hand position. The unique technology offered by the two-dimensional scrolling pad provides a more intuitive interface than rollerbars, touchpads or trackballs while maintaining the rich secondary features including built-in vertical scroll and back/forward when browsing the web (like on a Cirque touchpad). Left clicks can be activated at any time, anywhere on the steering pad, located just below where the space bar would be on your keyboard and easily within reach of your hands as they type. For the ultimate in convenience the Mousetrapper Flexible can be used as either a "Wired" or "Wireless" Device. The wireless receiver conveniently stows in the underside of the Mousetrapper unit so that it will always be available on the road and the entire unit can be stored in the included neoprene travel bag.
Ergonomic Benefits
Reduces Strain from Over-reaching - The Mousetrapper Flexible is designed to eliminate reaching for your mouse, which in turn helps alleviate or reduce the risk of injuries to the shoulder and upper arm that can be aggravated by repetitive reaching, especially to areas beyond your comfort zone.
No Static Grip - As cursor control is performed by simple contact with the Steering Pad surface there is no necessity to 'grip' anything. The lightest touch of a single or multiple fingertips will give the user complete cursor control. Since the steering pad is not 'contact sensitive' users are able to allow the hand to relax and rest on the pad, permitting any or all fingers to be used to control the cursor, encouraging natural hand flexing and movement. arm that can be aggravated by repetitive reaching, especially to areas beyond your comfort zone.
Tactile Feedback - Since the user physically moves the steering pad there is immediate tactile feedback. The silicone-coated ribbed surface of the steering pad communicates the movement to the nerves of the fingers, giving users a sense of 'control' that is not available through a traditional touchpad or cylindrical mousing device. Buttons offer a 'crisp' response, clearly notifying the user of the activation.
Low Activation Force - Clicks are easily performed with minimal effort. The weight of the hand and fingers naturally exerts downward force, resulting in little additional effort being required to activate the tactile switches.
Ambidextrous - The central location of the steering pad and buttons provides both hands with equal access to the controls, enabling load-balancing usage throughout the day.
Extra Support for Palms - While the steering pad is located ideally just below the hands that are typing, the surround area of the Mousetrapper Advance acts as additional resting space for your palms and forearm, effectively reducing stress on these parts, including the wrists.
Programmable - Nine Programmable Buttons provide enhanced productivity through advanced programming with MT Keys software, offering users the opportunity to simplify repetitive keyboard functions to a single click.
Features
Steering Pad: This steering pad is unique to the Mousetrapper. Although it looks like a touchpad, it is more like a treadmill that moves in all directions, not just up and down. Up and down movement is continuous like a treadmill, and left to right movement is set at about 3.5" either way, which is enough to move your cursor across the screen. Your fingers do not glide over the surface of the steering pad (as they would on a touchpad):, they move the steering pad itself. Cursor control is naturally intuitive as you are moving the steering pad in a two-dimensional linear plane, unlike cylindrical pointing devices. Left and Double clicks are easily performed using the Steering Pad, also much easier than with a cylindrical device as you are simply pressing against a flat 2-dimensional surface, rather than a cylinder which can easily rotate from any off-centre downward pressure.
Cursor Gliding: When the steering pad's surface can no longer be moved to either side (due to limited left and right movement), but the cursor is not yet at the edge of your screen, the cursor will automatically move to the screen edge. This automatic cursor repositioning feature will 'recalibrate' the steering pad so that normal cursor movement can resume. It is a normal part of using the steering pad and does not affect its performance.
Enhanced Cursor Control: By utilizing the free software users can program a single button to temporarily slow cursor movement to provide pixel-by-pixel movement. This feature can provide an incredible level of precise control for CAD and Graphic Design users alike.
Tactile Buttons: Nine reprogrammable* tactile buttons located around the steering pad provide a crisp 'click' sensation for positive tactile response.
Programmable: The nine re-programmable* buttons located around the steering pad provide the basic functions of most mice: right click, middle click, double click (left click is on the steering pad) as well as advanced shortcuts: copy, paste, drag lock, web page forward and web page back. Reprogramming is done through the FREE MT Keys software, downloadable from the MouseTrapper Website and provides an extensive range of custom programming options.
Scrolling: The steering pad also has a scrolling feature, much like the one on Cirque touchpads. To activate this feature, simply place you finger on the rightmost side of the pad and move the pad up and down. Another feature for web browsing: if you click while moving up, the 'back' function on your browser will be activated; if you click while moving down, the 'forward' function will be activated.
Shortcut Buttons: Clicks and Keyboard Stretches are reduced via the Default Preprogrammed Shortcut Buttons. Default commands include (Copy [CTRL/C], Paste [CTRL/v], Double Click, Drag Lock, Web page Forward, and Web Page Back. Programmability option enables users to customize their own profiles.
Compact: The design of the Mousetrapper Flexible accommodates any traditional or rectangular keyboard. It's reduced footprint (12 inches wide) fits perfectly with today's compact keyboards.
Wired & Wireless: The Mousetrapper Flexible features a Rechargeable extended-life battery and a Wireless Receiver which enables it to be used as a wired device which recharging the battery or as a totally Wireless and Cordless device, making it perfect for on-the-road-use.
Palm Rests: Smooth polyurethane-coated palm rests reduce wrist extension by supporting the hands at keyboard height.
Height Adjustment: For higher keyboards there are two small legs on the underside of the Mousetrapper Flexible in order to increase the height of the steering pad in relation to the keyboard. (1/4" lift).
Storage/Travel Case: The Mousetrapper Flexible SMT507 model comes with a zippered soft neoprene travel case designed to protect the unit from damage when travelling.
Default Control Settings: Buttons:

Top Left Button: Auto Scroll/Middle (third) Button
Top Right button: Right Click
Middle Left Button: Copy/Ctrl+C
Middle Right Button: Paste/Ctrl+V
Lower Left Button: On/Off
Lower Right Button: Double Click
Bottom Left Button: Browse Back
Bottom Right Button: Browse Forward
Bottom Centre Button: Click Lock

* There is a ridge between the buttons which prevents two buttons being pressed at one time, thus avoiding dual commands.
Steering Pad:

Left Click: Finger can be placed anywhere on the steering pad and gently pressed down until a clicking sound is heard.
Double Click: Pressing the finger down gently twice without lifting the finger will generate a double click. (finger cannot be lifted from surface between clicks).
Scroll: Finger can be placed at the extreme right edge of the steering pad to activate vertical scroll. Once in contact a simple up/down movement will scroll the screen accordingly.
Extended Scrolling: Once scrolling is begun the steering pad may be moved up and down without keeping any finger on the right edge. The scrolling stops once the steering pad stops. By using two fingers to maintain steady movement on the steering pad you can scroll smoothly though long documents with minimum effort.
Web Navigation: Back - Place finger at the rightmost edge of the steering pad. Pull down at least one centimetre (1/2") and click. Navigating further back just takes additional clicks. (finger must remain in contact between clicks). Forward - Place finger at the rightmost edge of the steering pad. Pull up at least one centimetre (1/2") and click. Further forward navigation can be done by additional clicks. (finger must remain in contact between clicks)

Custom Programming: Mousetrapper offers free software called MT Keys which can be downloaded from www.mousetrapper.com. This powerful software enables users to check and/or change the assigned functions of all buttons on the Mousetrapper Flexible. Most users have several commands which they access on a repetitive basis. Programming these into a single click can reduce awkward stretches and actually decrease the time required to perform these actions, effectively increasing productivity.

MT Keys also enables users to assign specific profiles for unique purposes. By default the program offers a single pre-programmed profile for general computer usage. The default functions for this profile are as described above. Any user can also create custom profiles specific to their needs. For example, CAD users can take advantage of the "Enhance Cursor Precision" option to enable accurate pixel-by-pixel control while still retaining rapid movement when necessary. The range of functions available for each button is too extensive to list. See the image gallery to get an idea of what is available.

The Profile Management is also a great solution for multi-user workstations, as each user can assign and quickly select the settings which are most suitable to their work pattern and personal comfort.

Two unique functions which bring even greater enhanced capabilities to Mousetrapper Flexible are the following:

"Enhance Cursor Precision" - This enables users to use a single button to temporarily slow cursor movement to provide pixel-by-pixel movement. This feature can provide incredible control for CAD and Graphic Design users alike.

"End Switch" - A function which enables the cursor to continue to move in the direction desired if the steering pad reaches the end of its movement prior to the cursor reaching its destination in that direction. Vertical motion can still be controlled while the cursor continues to move in the desired direction. This can be of great benefit for those users who are using extremely high resolutions, the newest high resolution monitors or multiple monitor setups.
Switchable Primary Buttons: For work environments where Administrator privileges are limited MT Keys can be downloaded and installed on any computer with Administrator privileges enabling the Mousetrapper Flexible to be custom programmed for use on other systems as the software writes the settings to the Mousetrapper Flexible and they are retained in non-volatile memory.

Note: In order to take advantage of moving between Profiles MT Keys must be installed on the host computer.
Power Settings: Battery Conservation (SLEEP) mode: The Mousetrapper Flexible utilizes a 3-Level 'Sleep Mode' which activates automatically

after 7 seconds the device switches its first power saving mode and consumes less power
after 20 seconds the devices switches to its second power saving mode, in which it consumes even less power
after 420 seconds (5 minutes) the devices switches to sleep mode, from which it takes the device 0.7 seconds to restart
the device always switches to power saving mode in order to save battery time

Automatic Switch-Off: When the USB receiver is disconnected from the USB port of the PC, your Mousetrapper Flexible will switch off automatically. To restart the unit, reconnect the USB receiver and press the on/off button for 5 seconds
Charging: When the battery lamp flashes red, the battery needs recharging. You can simply plug in the included recharging cable and continue working. When the battery symbol displays a steady green light the battery is fully charged and the Mousetrapper Flexible is ready for wireless use
Images
(Click on any thumbnail to view larger image)

Mousetrapper Flexible


Mousetrapper Flexible with compact keyboard


Mousetrapper Flexible with compact keyboard in laptop setup


Mousetrapper Flexible with carrying pouch


Mousetrapper Flexible Reprogramming Software


Mousetrapper Flexible Reprogramming Software


Mousetrapper Flexible Reprogramming Software
Technical Specifications
DPI Settings: 400 - 1500 DPI (infinitely variable using MT Keys Programming software). Default is 500 DPI.
Width: 12.0" (300 mm)
Depth (Front to Back): 3.74" (95 mm)
Height: 0.75" (19 mm)
Height with Legs Extended: 1.0" (25 mm)
Steering Pad Width: 3.0" (7.6 cm)
Steering Pad Depth: 2.0" (5.1 cm)
Embedded Left Click in Cursor Control: Yes
Colour: Black
Number of Buttons: 9 (fully programmable with downloadable software)
Compatibility: PC: Windows 98 SE, ME, 2000, XP (32 and 64 bit), Vista (32 and 64 bit), Windows 7.0 (32 and 64 bit), Windows 8, Windows 10
Mac: Mac OS X 10.7 or later
Interface: USB
Wireless (RF) Frequency: 2.4 GHz
Wireless Range: 10 metres (33 feet)
Weight: 295 grams (10.2 oz)
400 grams (14.1 oz) with Neoprene Transport Case (SMT507 model only)
Warranty: 2 Years
Models
For pricing, availability or to order this product, visit our online store.
| Model # | Description |
| --- | --- |
| MT106 | Mousetrapper Flexible, Wireless, USB interface |
| SMT507 | Mousetrapper Flexible, Wireless, USB interface (includes carry case) DISCONTINUED |