Page last updated: Fri, 19-Jan-2018 14:18:23
ErgoCanada - Detailed Specification Page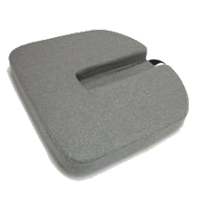 Back to Previous Page
Executive RX Seat
by McCarty's Sacroease
Ergonomic Benefits Features Images Additional Resources Usage Tips Accessories
Product Summary
Does your chair offer good back support but you find the seat uncomfortable? Do you require extra padding or have problems sitting on firm surfaces? If so this may be the option to consider. This bottom-only model is designed to fit larger chairs and provide a firm yet soft seat. It is built with a 17" x 17" bendable steel frame, rubber strap supports and a full 2 inches of poly foam cushioning, all covered by a soft, durable fabric.The durable non-skid bottom keeps it firmly in place on your chair. It has a 3.5" wide x 11.5" long coccyx cutout to relieve pressure making it ideal for larger persons who need to reduce the pressure in the tailbone area. Like other Sacro-Ease Seat Supports, the Executive RX Seat has a handle to enable you to transport it between locations and, also like other models, can be used in virtually all seating situations.
Technical Specifications
Width: 18.0"
Depth (front to back): 17.0"
Seat: 2.0" (5.0 cm) of poly foam
Available colours: Colours Available: Black (STOCK), Blue, Grey, Brown, Red, Light Brown, Charcoal. SPECIAL ORDER ONLY. NO 30 DAY CSG
Models
For pricing, availability or to order this product, visit our online store.
| Model # | Description |
| --- | --- |
| EXRX-BLK | Black model. |
| EXRX | Colours Available: Blue, Grey, Brown, Red, Light Brown, Charcoal. |