Page last updated: Fri, 19-Jan-2018 14:18:15
ErgoCanada - Detailed Specification Page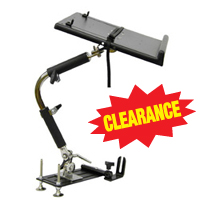 Back to Previous Page
RWHD Heavy Duty Mobile Laptop Desk
by Interactive Products Corporation
Ergonomic Benefits Images Additional Resources Usage Tips Accessories
Product Summary
The LapTraveler RWHD Series Mobile Desk is a medium duty mobile desk and has a gear lock (not cheap friction lock) tilt and rotate mechanism at the base of the pedestal. The desktop has forward, backward and side to side tilt and is bolted to the pedestal.The LapTraveler RWHD Series Mobile Desk comes with all three telescoping tubes: straight, 45º and 90º. The telescoping tubes are interchangeable, and provide maximum positioning flexibility. This unit is universal and guaranteed to work in your vehicle.
Features
Patent pending 24 Point (not 12 point) No-Drill Universal Base Mount that can be removed in seconds with a single knob (Great feature for leased vehicles) (Only on the RWHD-ND model).
Absorb-It shock control.
Compu-Loc laptop computer securing system.
Single knob adjustment for pedestal height and 360° rotation.
Single knob adjustment for 270° mobile desk platform tilt.
LapTraveler RWHD Series with straight telescoping tube adjusts from 21.5" to 26.5" (54.6 cm to 67.3 cm) (No-drill base mount will add 1" to 3" (2.5 to 7.6 cm) depending on the installation).
LapTraveler RWHD Series with 45º telescoping tube adjusts from 20" to 25.5" (50.8 cm to 64.8 cm) (No-drill base mount will add 1" to 3" (2.5 to 7.6 cm) depending on the installation).
LapTraveler RWHD Series 90º telescoping tube adjusts from 14.5" to 17" (36.8 cm to 43.2 cm) (No-drill base mount will add 1" to 3" (2.5 cm to 7.6 cm) depending on the installation) (pictured at right).
Fully adjustable universal base mount with dual gear lock tilt & rotate adjustment.
Laptop Docking Station top surface area: 13" X 14".
Maximum capacity: 30 lbs (13.6 kg)
Warranty: 1 year limited warranty on parts and labour. Details available upon request.
***This product has a minimum 25% restocking charge for returns in the 30 customer satisfaction guarantee.***
Technical Specifications
Width: 14" (35.6 cm)
Depth (front to back): 13" (33.0 cm)
Height: 45° telescoping tube: 20" to 25.5" (50.8 cm to 64.8 cm)
90° telescoping tube: 14.5" to 17" (36.8 cm to 43.2 cm)
Weight capacity: 30 lbs (13.6 kg)
Material (Laptop docking station): ABS molded plastic.
Warranty: 1 year limited on parts and labour.

All products are guaranteed to be free of manufacturers defects for a period of one year from the date of purchase. All Laptop Docking Stations are guaranteed not to crack or break for a period of one year from the date of purchase.

Interactive Products Corporation will repair or replace, at our discretion, without charge, any of our products which fail to perform due to defects in material or workmanship. Defects which result from damage or misuse, such as excessive force or improper installation, are not covered by this warranty.

Interactive Products will not be responsible for any incidental and/or consequential damage due to failure of any Interactive Products Corporation product.
Drill mount installation instructions: Interactive Products Corporation manufactures the most versatile, ergonomic and rugged mobile computing and communication mounting systems available. We strive to meet and exceed our customer's expectations. We will manufacture specialized units to meet your mobile mounting needs.

If you have any questions, call them toll-free at: (888) 552-7867.

CAUTION: NEVER USE LAPTOP COMPUTER STAND WHEN VEHICLE IS IN MOTION! SAFELY PARK VEHICLE PRIOR TO USE.

INTERACTIVE PRODUCTS CORPORATION AND MICWIL COMPUTER CONSULTING WILL NOT BE LIABLE FOR ANY DAMAGES RESULTING FROM IMPROPER USE OF OUR LAPTOP STANDS.

Thank you for your business.
"AIRBAG FRIENDLY " and "AIRBAG COMPATIBLE": Much has been discussed, advertised and promoted regarding the compatibility between installation systems (mounting hardware) for mobile communications equipment and the "airbag deployment zones" in automobiles. Although many hardware manufacturers promote their products as being "airbag friendly" or "airbag compatible" the ultimate responsibility lies with the installer and/or end-user.

Any combination of installation hardware and mobile communication equipment that is not installed and positioned properly within the suggested dimensional parameters as defined by the vehicle manufacturer could potentially interfere with the deployment of the airbag(s). As a hardware manufacturer, Interactive Products Corporation can make suggestions and recommendations for the correct positioning and installation of our mounting systems. However, Interactive Products Corporation cannot control the ultimate placement and/or quality of the installation; nor can we control the type, size, style or placement of mobile communication equipment which the end-user chooses to mount onto, or with our products.

Manufacturers of public safety and law enforcement automobiles have provided, over the past few years, detailed information regarding the "airbag deployment zone(s)" in their specific vehicles. In printed material and via videotapes, car manufacturers have outlined and illustrated the area within each vehicle that is considered a safe zone for installing mobile communications equipment.

Note: Although airbag templates are available to assist in positioning equipment, they may not give you an exact image of the actual "deployment zone" of a rapidly inflating airbag. We strongly suggest you supplement the use of templates with the information provided by the vehicle manufacturer for a more accurate representation of available installation space.
Warning: Do not install the mount system or position the equipment in the deployment path of an airbag. In the event of airbag deployment, mounting systems and/or equipment located within the airbag deployment zones can damage the airbag, prevent proper airbag inflation and/or become projectiles which could potentially cause personal injury or death. To determine airbag deployment zones and the area recommended for equipment installation, refer to vehicle manufacturer's manual. Interactive Products Corporation makes no warranties except for intended use and will not be held liable or responsible for any loss or damage, whether direct, indirect, incidental, special or consequential arising from the sale, use or misuse of Interactive Products Corporation products or the user's inability to use such products.
Models
For pricing, availability or to order this product, visit our online store.
| Model # | Description |
| --- | --- |
| RWHD-ND | No Drill model |
| RWHD-D | Drill model |
| RWHD-ND-AAD | No drill model with aluminum dock |
| RWHD-D-AAD | Drill model with aluminum dock |