Page last updated: Fri, 20-Apr-2018 15:04:17
ErgoCanada - Detailed Specification Page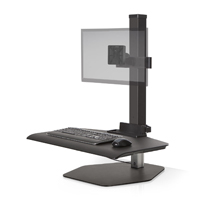 Back to Previous Page
Winston Workstation Single
by Innovative
Ergonomic Benefits Features Images Usage Tips Accessories
Product Summary
The Winston Workstation Single from Innovative Office Products is a height-adjustable sit-stand add-on unit that converts almost any sit-only desk into a sit-stand desk. This all-in-one unit will raise a keyboard, mouse, or other desk accessories, including a single monitor, to whatever standing height you need them (up to 17.0" above desk height for the keyboard platform; up to 40.0" above desk height to the middle of your monitor).

The keyboard platform (30" W x 18" D) and monitor mount (100 x 100 mm VESA compatible) are independently height-adjustable for the user's specific requirements, whether sitting or standing.* The Winston uses a heavy metal base to stabilize the unit so that it can be positioned anywhere on the desk surface without having to clamp or bolt it to the desk. Also, there is a release mechanism built into the keyboard platform on the right side, which releases a lock when pressed so that you can then effortlessly move the platform up or down as desired.

With appropriate accessories, the single unit can be upgraded to a dual unit. Triple and quad units are also available. Call for details.

*NOTE: The monitor height relative to the keyboard platform is set when the unit is assembled and is not intended to be adjusted on the fly while in use. It can be readjusted by disassembling the monitor clamp and reassembling at whatever height is needed.
Additional Resources
Winston Workstation Single Brochure with Dimension Specs: PDF


Technical Specifications
Keyboard Platform Height: 1.3" (min.) to 18.3" (max.) above desktop
Keyboard Platform Range: 17"
Keyboard Platform Dimensions: 30.0" wide x 18.0" deep
Monitor Mount: Tilter-type VESA compatible (100 mm x 100 mm hole pattern) with 200° tilt and 360° pivot (landscape to portrait)
Monitor Height: Up to 17" from keyboard platform to middle of monitor
Cable Management: Yes (cables clipped to column)
Free Standing Base Dimensions: 20.7" wide x 22" deep
Weight Ranges by Model:


| | |
| --- | --- |
| WNST-1-FS-L | 9 - 20 lbs (4.1 - 9.1 kg) |


Note: These weight ranges should include monitor weight plus anything placed on the keyboard platform
Warranty: 5 year warranty on all parts
Models
For pricing, availability or to order this product, visit our online store.
| Model # | Description |
| --- | --- |
| WNST-1-FS-L-BLK-104 | Winston Workstation Single, Black Worksurface, Black Column, Single LCD Monitor (VESA compatible) and Keyboard Tray, supports 1 monitors from 5 - 16 lbs each |
| WNST-1-FS-L-BLK-124 | Winston Workstation Single, Black Worksurface, Silver Column, Single LCD Monitor (VESA compatible) and Keyboard Tray, supports 1 monitors from 5 - 16 lbs each |