Page last updated: Wed, 21-Feb-2018 14:36:31
ErgoCanada - Detailed Specification Page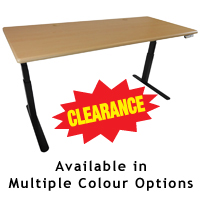 Back to Previous Page
ThermoDesk ELLURE Tabletop
by iMovR
Ergonomic Benefits Features Additional Resources Specifications Usage Tips
Product Summary
The ThermoDesk ELLURE Table Tops from iMovR use 3D Lamination Technology, a process which enables the production of a superior top in both appearance and quality. A wide palette of colours, including Hayward Cherry, Clove Mahogany, Light Maple and Urban Walnut ensure the right tone in any office environment from entry level to senior executive. This is a product where the quality matches the name.

The 1 1/8" thick high-density MDF tops are machined with softly rounded edges and corners before being vacuum-wrapped at high heat. This enables the laminate finish to be wrapped around the top and sides in one complete and seamless film, even including the grommet hole interiors which are perfectly covered and sealed. The resulting worksurface has no sharp edges or square corners and is completely non-porous, ensuring protection from damage related to humidity and exposure to liquids. Multiple layers of finish provide resistance to abrasion and damage from many common cleaning and disinfectant products. iMovR is so confident in the ThermoDesk products that they are backed with a 5 year warranty.

The tops are then pre-drilled to fit the iMovR RELEVATE frame and fitted with threaded metal inserts which ensure quick and measure-free installation with a single Phillips screwdriver. The metal inserts ensure a well-secured top as well as the ability to remove and replace tops without wear on the mounting points.

NOTE: Thermdesk Ellure tops can be installed on other sit/stand desk frames but the threaded inserts may not be useable in those applications.
Images
(Click on any thumbnail to view larger image)

ThermoDesk Ellure Tabletop in Light Maple


ThermoDesk Ellure Tabletop in Hayward Cherry


ThermoDesk Ellure's Fully Wrapped and Rounded Edges


ThermoDesk Ellure's Fully Sealed Grommet Holes


ThermoDesk Ellure - Optional Grommet Mount Power Outlet


ThermoDesk Ellure - Many Colour Options Available
Models
For pricing, availability or to order this product, visit our online store.
| Model # | Description |
| --- | --- |
| ELLURE-3048M | iMovR ThermoDesk ELLURE Tabletop, 48" wide x 30" deep x 1.125" thick, Light Maple |
| ELLURE-3060W | iMovR ThermoDesk ELLURE Tabletop, 60" wide x 30" deep x 1.125" thick, Solid Frosty White |
| ELLURE-3060C | iMovR ThermoDesk ELLURE Tabletop, 60" wide x 30" deep x 1.125" thick, Hayward Cherry |
| ELLURE-3072H | iMovR ThermoDesk ELLURE Tabletop, 72" wide x 30" deep x 1.125" thick, Clove Mahogany |
Accessories
| Model # | Description |
| --- | --- |
| DUAL-AC-NODE-B | iMovR Grommet-Mounted Dual-AC Power Socket Node, Black, fits 3" grommet holes, comes with 72" cord |
| DUAL-AC-NODE-S | iMovR Grommet-Mounted Dual-AC Power Socket Node, Silver, fits 3" grommet holes, comes with 72" cord |
| IM-CMKIT-AB | iMovR Advanced Cable Management Kit Accessory, Black: Includes 10 releasable 5" cable ties, 6 high tack adhesive mounting brackets (20 lb rating), 6' braided wrap around cable sleeve, 10 single use 7" cable ties, 3 supermagnet cable guides, 7 outlet power strip with surge protection and a 12' cord, 2' long cable tray |
| M-CMKIT-A | iMovR Advanced Cable Management Kit Accessory, Grey: Includes 10 releasable 5" cable ties, 6 high tack adhesive mounting brackets (20 lb rating), 6' braided wrap around cable sleeve, 10 single use 7" cable ties, 3 supermagnet cable guides, 7 outlet power strip with surge protection and a 12' cord, 2' long cable tray |