Page last updated: Fri, 18-Aug-2017 14:15:53
ErgoCanada - Detailed Specification Page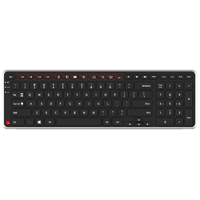 Back to Previous Page
Balance Keyboard
by Contour Design Inc.
Ergonomic Benefits Features Additional Resources Usage Tips Accessories
Product Summary
The Balance Keyboard from Contour Design is specifically designed to work with the RollerMouse Red, Red Plus, and Free2. It keeps your hands close to the rollerbar and keyboard keys so that you can get the most out of your keyboard and mouse. It is wireless and uses two AAA batteries, connecting to your PC or Mac via a small USB wireless receiver (stored conveniently in the housing when not in use). There is no need for an ON/OFF switch due to smart, power-saving technology.

The keyboard also has adjustable leg risers built into the underside, so that you can have a positive, neutral, or negative incline if desired. In addition, there are media keys for accessing common functions as well as traditional function keys (F1 - F12) accessible via the Fn lock feature.
Images
(Click on any thumbnail to view larger image)

Contour Design Balance Keyboard


Balance Keyboard with RollerMouse RED


Balance Keyboard with RollerMouse Free2


Balance Keyboard Matches RollerMouse Height


Balance Keyboard - Three Angle Options


Balance Keyboard - Convenient Wireless Receiver Storage
Technical Specifications
Weight: 1.7 lbs
Dimensions: 15.4" W x 4.7" D x 0.9" H
Keyswitch Type: Chiclet (laptop style)
Keys: 102 (including 12 programmable media buttons)
Connectivity: Wireless (includes receiver)
Compatibility: OSX, Windows
Driver: Download from manufacturer Support Page
Power: 2 x AAA batteries
Battery Life: 12 months
Warranty: 1 Year
Package Contents: Balance Keyboard, Wireless Receiver, 2 x AAA Batteries, Instructions
Models
For pricing, availability or to order this product, visit our online store.
| Model # | Description |
| --- | --- |
| BALANCE-US | Contour Design Balance Keyboard, Wireless |
| ULT-RM-RED | Ultimate RollerMouse Bundle - RollerMouse Red, with Balance Keyboard SAVE $20.00 |
| ULT-RM-RED-PLUS | Ultimate RollerMouse Bundle - RollerMouse Red Plus, with Balance Keyboard SAVE $20.00 |
| ULT-RM-FREE3 | Ultimate RollerMouse Bundle - RollerMouse Free3, Wired, with Balance Keyboard SAVE $20.00 |
| ULT-RM-FREE3W | Ultimate RollerMouse Bundle - RollerMouse Free3, Wireless, with Balance Keyboard SAVE $20.00 |